Welcome to Cherubs @ the Neonatal Unit, The Hillingdon Hospital
At the Hillingdon Hospital, there are approximately 4000 births each year. The majority of these babies are well, however about 400 will need to be admitted to the neonatal unit due to some kind of difficulty. For parents, this can be a very stressful time.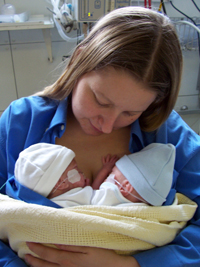 Cherubs is an organisation created by and for the parents of babies on the neonatal unit at The Hillingdon Hospital. The Cherubs group aims to provide information and support to parents. We are also a charity, and we raise money for the neonatal unit (with an emphasis on improving the experience of parents).
This website is maintained by Cherubs, and contains practical info about the unit, and details of the treatments babies receive here. It is hoped by using this site, parents will gain a better understanding of their baby's condition and feel able to be involved in the decisions made concerning his/her treatment.
This site is divided into 6 main categories (shown along the top of the page). You can then use the links at the side to navigate within these areas.