Information for Fathers
Often the attention is on the mum and baby, and sometimes dads can feel a little left out. The dads tend to feel they should be strong for their family and keep everything as normal as possible. However, this can be stressful if you are working full time and are not used to managing everyday practicalities for the family.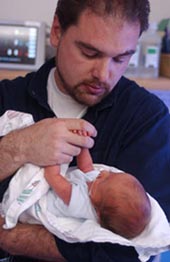 Asking for help
Many people find it hard to ask for or accept help from others, but often friends and family are keen to know how to help without getting in the way - try giving them specific practical tasks to do.
Work responsibilities
Tell your employer about your situation, as you are more likely to get flexibility from your boss if he or she understands what is happening.
Getting involved
You would not be the first to feel helpless, or overwhelmed. However, being involved in making decisions about your baby's care, and taking part in activities such as feeding, nappy changing, and kangaroo care, can help you to feel more confident and closer to your baby.
Remember that you and your partner have an important role to play in comforting and supporting your baby. He or she will get to know your voice and your smell, and parents are the best people to provide reassurance and affection.
Talking to someone..
Medical and nursing staff are here to support families as well as babies, so please talk to staff if you are finding things difficult or having problems. They may be able to give useful advice.
If you would like to talk to someone, perhaps another dad who has been through the experience and understands how you might be feeling, premature baby charity BLISS provides a parent-to-parent support network as a freephone service on 0500 618140. Alternatively, you can email dads@bliss.org.uk if you would prefer to communicate with another dad by email.