Getting Involved
Sick and premature babies need alot of rest, and staff will be practising 'minimal handling'. However, babies recognise the sound and smell of their parents, and it is good for mums and dads to spend time touching and talking to their baby. It is also good for siblings to be involved with their new brother or sister, perhaps by bringing them to visit sometimes, or by encouraging them to make pictures to brighten up the baby's incubator or cot space.
Cuddling
When your baby is well enough, he or she will be able to come out of the incubator for a cuddle. Ask the nurse looking after your baby, and she will be glad to take the baby out for you, or if not, to explain why your baby would be more comfortable in the incubator for now. Kangaroo Care is an excellent way to hold your baby.
Containment Holding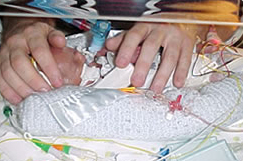 If it is better to let the baby stay in the incubator for now, then you can try this technique of placing your hands firmly but gently over and around the baby. This is better than stroking or patting, as this can over-stimulate babies (a bit like tickling someone). Also, babies like to feel contained as it reminds them of being in the womb.
Changing Nappies
Nurses will be happy to help you change your baby's nappy yourself when you feel you are ready. This may seem a very fiddly task whilst your baby still has lines and wires, but it is a good way for you to get involved in baby's everyday care, and it does get easier with practice!
Feeding
This is another excellent way to help care for your baby. Tube-feeding your son or daughter may seem daunting at first, but when you wish to do this, nurses will help you every step of the way and show you what to do as many times as you'd like. For more information, visit our 'Feeding your Baby' page.
Bathing & Washing
Whilst babies are in an incubator, they are unlikely to be bathed, as they would get cold too quickly. During this time, they will have their eyes and mouth freshened-up using some sterile water and gauze. This is another good opportunity to care for your baby, and again, staff will help and show you how to do this when you feel ready.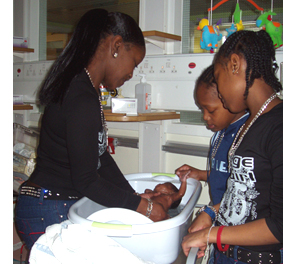 Once your baby comes out of the incubator and is maintaining their temperature well enough, you should be able to bath him or her.
Nursing staff will be happy to talk through bathing with you, and help you with baby's first bath.