First Impressions
Having just experienced an unexpected, and often traumatic event in the birth of a premature baby, you will then find yourself visiting your baby or babies in a strange environment full of monitors and alarms. You would not be alone in feeling overwhelmed. The neonatal staff understand that it is a very stressful time for you, and are here to help you and your baby.
What will my baby look like?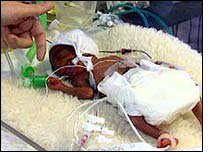 When you first see your baby, he or she may be smaller than you had expected. There are likely to be many wires for monitoring purposes, probably intravenous lines to give fluid, and sometimes a breathing tube in the baby's mouth.
At first, your baby will be in an incubator to help keep warm, but this does not mean that you cannot touch him or her through the portholes.
It can be difficult to bring babies out out an incubator for a cuddle whilst they are ventilated, but once they are off the ventilator, do ask nurses whether it is possible to have a cuddle.