Transporting your baby home
Where possible, you should always use a rear-facing baby car seat, even on short journeys. If you do not own a car, it may be possible to borrow or hire a baby seat if travelling by taxi.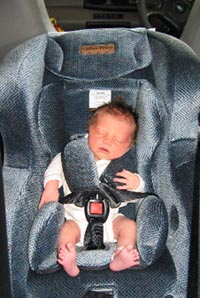 Premature baby charity BLISS makes the following recommendations when transporting your baby by car:
Try your baby in the car seat before going home to make sure that he/she is safe and comfortable.

Use 'head hugger' supports which fix into car seats if your baby is still quite small.

Practice fitting the baby seat into your car.
Only use a rear-facing baby seat for a newborn baby.

Never use a baby seat in the front if a passender seat airbag is fitted.

Do not buy or use a second hand baby seat unless you are fully aware of its history.
Research has indicated that certain babies can have breathing problems if they stay in a car seat for long periods. The Royal Society for the Prevention of Accidents (RoSPA) has issued guidelines in the use of car seats for premature and low birthweight babies:
Avoid keeping your baby in the seat for any longer than is necessary.

Recline the seat as much as possible when in the car.

Never leave your baby unattended in the car seat.

Only use the baby seat in the car and not on an integrated travel system for feeding or sleeping.

Keep car travel to a minimum for the first few months where possible.