Keeping Warm
To help premature or sick babies to maintain their temperature, we place them inside an incubator, or in a heated cot.
Incubators are closed boxes with hand-sized holes at the side. They keep the heat in and help to prevent the baby from losing moisture by evaporation from the skin.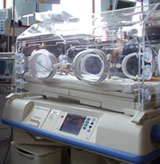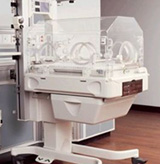 At Hillingdon, we use two types: HillRom (left) and Giraffe incubators (right).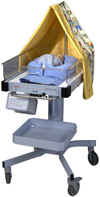 Heated cots have a water filled mattress which is heated slightly to help keep a baby warm. The temperature is adjustable to meet baby's needs.