Hand Washing
On the neonatal unit we follow strict rules in order to prevent the spread of viruses and bacteria. We are proud of our low incidence of infection and need your help to maintain this.
The most important thing to remember is to wash hands thoroughly before entering the special care nurseries and intensive care area. Sinks are found halfway up the corridor as you enter the unit, next to the parents kitchen. Diagramatic guides to proper hand-washing are situated above these sinks.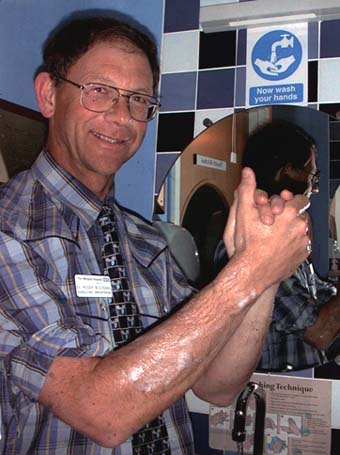 Due to the vulnerable nature of our patients, we also ask visitors to do the following:
Use the alcohol gel at the front door to the unit.
At the baby's incubator / cot, use alcohol gel again before touching the baby. Remove wrist watches, rings (except wedding rings) and bracelets before touching the baby (germs tend to thrive underneath these).
If possible, try to avoid visiting the unit if you are obviously unwell (i.e. with flu etc). Whilst it is important for families to visit, sick and premature babies are extremely susceptible to infection. If in doubt, please speak to the nurse looking after your baby. Visitors other than parents must not visit if they are ill.