Nurses
Our nursing team consists of over 30 members of staff, hailing from a variety of backgrounds, including midwifery, nursery nursing, children's and adult nursing. Many hold neonatal qualifications, and all endeavour to keep up-to-date with the fast-moving field of neonatal care.
Our Unit Manager is Suet Mei Yoon. She ensures that a high standard of nursing care is provided within the available resources, as well as managing budgets, risk management, staff recruitment and more.
We are also fortunate to have a Practice Development nurse, whose role it is to assist neonatal nurses in ongoing education and training.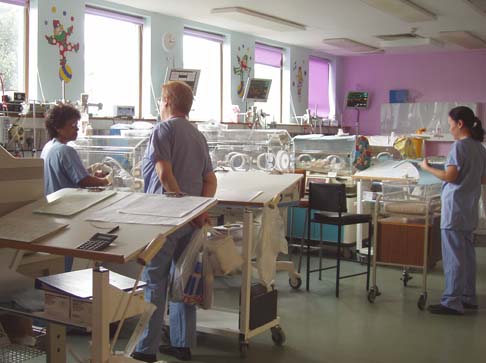 At the beginning of each shift, a nurse will be allocated to look after your baby. When you visit the unit, the nurse will introduce him or herself to you and update you regarding your baby's care. Your nurse may be working with a student who is learning how to care for sick babies. As well as caring for the babies on our unit, we also strive to provide help and support to families.
In retrospect, some parents recall feeling a little reluctant to ask questions. We would like to encourage you to voice any questions or concerns you may have. Your nurse will be happy to explain your baby's care and treatment, and a better understanding of the work we do may make you feel more at ease in an unfamiliar environment.