Other Members of the NNU Team
Tahira Nordin is our ward clark, she handles the administrative side of NNU life and ensures that our paperwork and records are up to date and processed correctly.
Indu Shah is our domestic cleaner. She maintains a high standard of cleanliness for floors, windows etc and generally keeps the unit spotless.
Gill Bonner is our Health Care Assistant. She has a variety of responsibilities around the unit and helps to keep everything running smoothly.
Other important people include:
Radiographers - they may visit the unit to take an xray of your baby.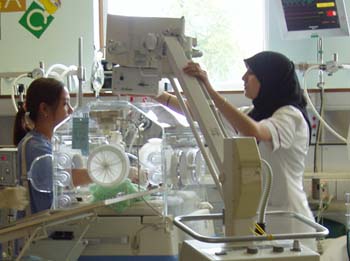 Speech and Language therapists - they assess babies for possible difficulties with sucking and swallowing co-ordination and offer advice.
Pharmacists - regularly visiting the unit to supply medications and offer advice on prescription or administration of drugs.
Hearing technicians - may visit your baby to perform a routine hearing test.
Opthalmologists - specialist eye doctors may visit to perform routine eye checks.